Jim's Grille Replacing Rich's Restaurant, But Not Quite Yet
Nov 22, 2013 09:33AM, Published by Anonymous, Categories: Business
---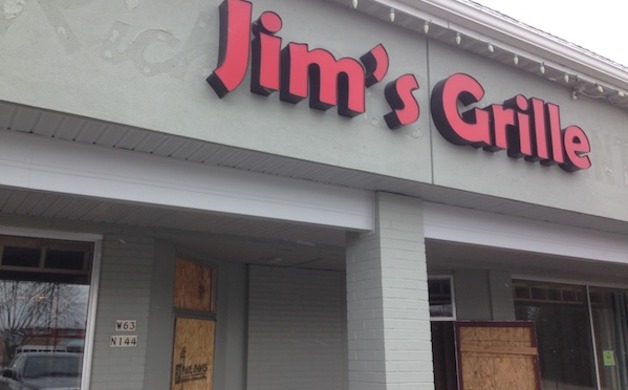 ---
---
[caption id="attachment_1059" align="alignnone" width="600"]
Jim's Grille is the name of the rebranded restaurant in the former Rich's location in Cedarburg.[/caption]
If you've seen the sign "Jim's Grille" just erected at the former Rich's Restaurant location, don't go looking for a burger or pizza just yet.
Owner Jim Joyce said Friday that he can't give any kind of opening date for the re-branded restaurant, though it's "looking like some time in January." Inside, the restaurant damaged in a February fire remains mostly gutted, with walls down to studs and work equipment all about.
Once the remodeling is done, patrons will find some new menu offerings in addition to traditional favorites.
"I don't want to alienate anybody, but I want to attract some new people, because there are some people in town who have never been in," Joyce said.
Look for a Friday fish fry that will be all-you-can-eat, some seafood and new burgers and pizzas, he said, though he continues to work on both the menu and the look on the inside.
Rich's has been in Cedarburg since 1976, according to a FOX6 report.
Two other Echo Plaza locations damaged by the fire have welcomed business again. Grapes and Tastes returned to the south of Rich's by mid-October, while Las Fajitas just opened last week in the former Jalisco's location.
---
---
jim's grille business rich's restaurant
---
You might also like
Chiselled Grape Winery Tasting Room Open On Washington Ave.
[caption id="attachment_2349" align="alignnone" width="600"] Inside the new tasting room at the Chiselled Grape Winery, a new addition to downtown Cedarburg.[/caption] After 2 1/2 years of people "almost" stopping into the Chiselled Grape Winery at the intersection of Lakefield Road and Port Washington Road the town of Grafton, proprietors moved to downtown Cedarburg and opened their new tasting room on Feb. 14.
Jim's Grille Announces Thursday, March 6 Opening
From Facebook: https://www.facebook.com/JimsGrilleinCedarburg/posts/312672088858030 From Facebook: https://www.facebook.com/JimsGrilleinCedarburg/posts/312672088858030 Read more about Jim's Grille
---