Half-Day Kindergarten No More In Cedarburg
Apr 28, 2014 09:54PM, Published by Matt Schroeder, Categories: Schools, Today
---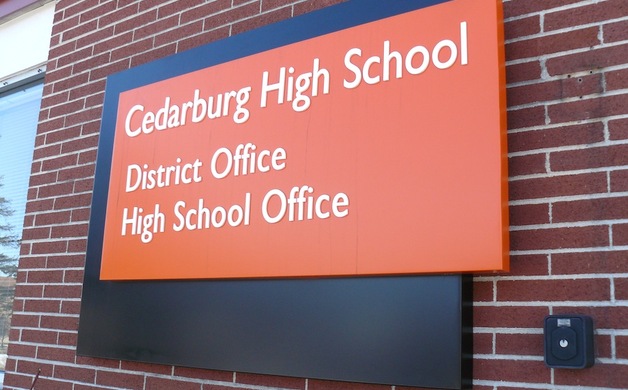 Cedarburg School District
---
---
Half-day kindergarten is officially vanishing from the Cedarburg School District, due to diminishing requests and evolution of the full-day program.
Cedarburg transitioned to full-day kindergarten in 2008, making it among the late adopters of the program in Wisconsin. It continued to offer a half-day option by request, but by this year only four families took advantage, half as many as the previous two years. But having even one half-day student required teachers to put all core curriculum items in that half-day, and Todd Bugnacki, the district's director of curriculum and instruction, said at Monday's school board meeting that teachers expressed concerns that it was preventing the program from really blossoming.
"It's not shapes and colors anymore," said Parkview kindergarten teacher Lenny Hanson, who spoke to the school board Monday in favor of the change. Having a class this year made up of only full-day students has allowed him to increase flexibility and rigor even more. He said that five years ago, kindergarten math standards involved counting to 20. Now, students are borrowing and carrying in their subtraction and addition, and he said the full-day program was essential to that growth.
The board approved the change Monday without a dissenting vote.
---
Sign up for our e-mail newsletter
---
---
cedarburg school district half-day kindergarten
---
You might also like
How To Fill The Cedarburg School Board Vacancy
Apply by Nov. 15 if you are interested in filling a new vacancy on the Cedarburg School District board. The board officially accepted Troy Forrest's resignation on Tuesday, in advance of Forrest's move out of state. His term ends in April 2015, so an appointee will serve a little more than a year before needing to run for re-election.
April 2014 Election Cycle Begins Within A Month
Cedarburg's 2014 April election cycle will be active, and though the April 1 vote is five months off, the entire Election Day process begins even now, as potential candidates consider whether to run.
No Applicants Yet For Open School Board Seat
Just three days prior to the deadline, there are no applicants for Cedarburg's open school board seat, according to Ann Weaver, the school board secretary. Download the application and have it back to the district by Friday if you would like to fill the seat left vacant by Troy Forrest, who resigned due to a move out of state. His term ends in April, so a successful applicant would serve only a few months before needing to run again.
---